ICEC Cornfield – Milharal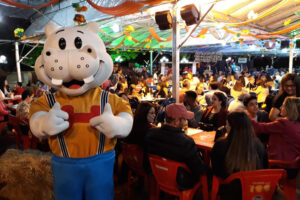 It happens every year in Arbergurgo-MG the traditional Milharal.A delicious party, with various artistic attractions, and varied cuisine with corn that has already entered the official calendar of festivities in the city, as it has become eagerly awaited by the attendants, who are more numerous each year. In a beneficent character, which aims to improve and expand the ICEC, it guarantees a lot of fun, awards, good food that has become a tradition not to be missed.
Solidarity Christmas, collaborating with those who need the most
What started as an end-of-year solidarity action, Solidarity Christmas has become a tradition at Cory, where every year we gather our collaborators with the purpose of bringing love and helping the people who need it most.
Its first edition took place at the Child and Adolescent Care Center in Ribeirão Preto (SP), which served 95 children and adolescents from 6 to 17 years old, developing sports and cultural activities.
For two days, Cory's employees did brushwood around the unit, painted walls, doors and windows. All the material was donated by the company and the employees entered with their labor. In the end candies and treats were distributed, besides trampoline, bounce house and a lot of fun! The children were very happy!
The unit in Arceburgo, Minas Gerais, transformed the factory into the "Fantastic Cory Factory". On that occasion we brought to visit the company more than 100 children from the community, who besides getting to know the whole production process presented by the most diverse superheroes, had fun in several rides and activities, also got to know the Cory Institute of Education and Culture and were super delighted with everything. It was an unforgettable day for the children and for everyone who participated in the event.
In its most recent edition, Cory took 120 Santa Clauses to the Hemocentro in Ribeirão Preto to donate blood. This initiative helped save up to 480 lives, at a time when donations fall drastically due to the festivities. In another solidarity front, our collaborators were at Casa do Vovô in Ribeirão Preto (SP) to play bingo, cards and tell stories to the elderly, among other activities.
At Cory Arceburgo (MG), the collaborators donated blood in partnership with the Blood Bank of Alfenas (MG). We also held a sale, for the entire community of Arceburgo, where it was possible to buy very good products, almost new, for a very cheap price. The entire revenue was transferred to Cory Institute of Education and Culture.